Heavenly Signs and Earthly Tremors 2020
This past Summer in July 2019, I posted a blog on Heavenly Signs and Earthly Tremors
detailing links between earthquakes and eclipses. As we enter a new decade that looks to redefine the meaning of "the roaring 20's," it seems we have added to previous evidence in light of the recent earthquakes and aftershocks felt in Puerto Rico, in the last two weeks. There has been a cluster of over 1,000 earthquakes shaking Puerto Rico since the New Year, but what is different about this, is the major spike in volcanic activity occurring at the same time. In Alaska, the Shishaldin Volcano erupted at 5 a.m. Tuesday, Jan. 7th– the same day three earthquakes hit Puerto Rico. The Alaska Volcano Observatory stated, this volcano sent up an initial ash cloud to 19,000 feet, followed in Mexico on Thursday, Jan. 9th when Mt. Popocatepetl shot hot ash nearly 4 miles into the sky as the volcano came to life in a gush of lava and ash-clouds, hurling flaming rock about 20,000 feet skyward. While this took place in Mexico, the Sabancaya volcano in Peru was exploding volcanic ash in a plume about 24,000 feet into the air… but the media has paid little attention to it, due to what is going on in the Phillipines! 1
Psalm 144:4-15
5 Bow thy heavens, O Lord, and come down: touch the mountains, and they shall smoke. 6 Cast forth lightning, and scatter them: shoot out thine arrows, and destroy them.7 Send thine hand from above; rid me, and deliver me out of great waters, from the hand of strange children; 8 Whose mouth speaketh vanity, and their right hand is a right hand of falsehood. 9 I will sing a new song unto thee, O God: upon a psaltery and an instrument of ten strings will I sing praises unto thee. 10 It is he that giveth salvation unto kings: who delivereth David his servant from the hurtful sword. 11 Rid me, and deliver me from the hand of strange children, whose mouth speaketh vanity, and their right hand is a right hand of falsehood: 12 That our sons may be as plants grown up in their youth; that our daughters may be as corner stones, polished after the similitude of a palace: 13 That our garners may be full, affording all manner of store: that our sheep may bring forth thousands and ten thousands in our streets: 14 That our oxen may be strong to labour; that there be no breaking in, nor going out; that there be no complaining in our streets. 15 Happy is that people, that is in such a case: yea, happy is that people, whose God is the Lord.
People can be confident in our God, the Lord of all Creation, even in the face of natural disasters like this, because we can prosper in any situation, even if the world is living in fear.
Eruption of the Taal Volcanic Philippine Island. 2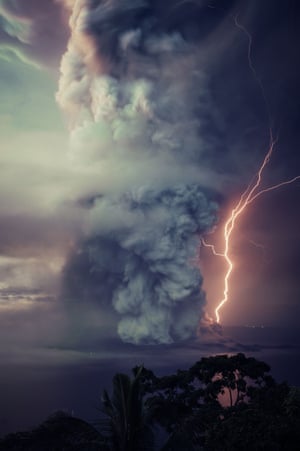 On Sunday, Jan. 12th the Taal volcano roared to life, and this eruption of the volcanic island sent "steaming, ash and rock up 6 to 9 miles into the sky". On Monday hot lava spewed from this Philippine volcano after it's eruption of ash and steam caused villagers to flee and closed down Manila's International Airport. You may be wondering what has been going on in the heavens during all of this, other than lightning?
There was an Annular Solar Eclipse that opened Christmas night to Dec. 26th, 2019 during Hannukah week, which was notable as pointed by one Christian Minister- Pastor Paul Begley, who stated this is the third consecutive year that a solar eclipse appeared during Hannukah. This eclipse was visible mainly in the middle east, beginning in Mecca as Pastor Begley noted. 3
"The entire Islamic world will see this solar eclipse during the Hanukkah season." The image of this eclipse below is what residents of the UAE witnessed, with the rest of the middle east. 4
Pastor Begley said that another solar eclipse will appear in South America during Hanukkah next year on December 14, 2020. And yet again the year after on Dec 4, 2021 a Solar Eclipse will appear during Hanukkah that will be visible in Antarctica. 5
Two days after this "ring of fire" Solar Eclipse on December 28th, 2019, there was a 4.7 quake in Puerto Rico, followed early the next morning with a 5.0 magnitude quake on 12-29-2019. This ring of fire Solar Eclipse seemed to foreshadow the volcanic activity that preceded the earth–shaking events being felt as never before in Puerto Rico. Next, was a 5.8 magnitude quake on Jan. 6th, 2020, followed by 3 quakes on Jan. 7th. The first of these and most powerful, was a 6.4 magnitude tremor, followed 10 min. later by a 5.6 mag. aftershock. Then only 15 minutes later there was another 5.0 aftershock. All this seismic activity taking place between 2 eclipses, is an eye-opening lead-up to the first of four Penumbral lunar eclipses opening the new decade scheduled in 2020. 6
2020 will see four Penumbral Lunar Eclipses and one Annular Solar Eclipse. 7
| | | | |
| --- | --- | --- | --- |
| January 10 | Penumbral lunar eclipse | 19:10 UT | Europe, E. Africa, Asia, W. Australia |
| June 5 | Penumbral lunar eclipse | 19:25 UT | Africa, Middle East, west & central Asia, Australia |
| June 21 | Annular solar eclipse | 6:40 UT | Africa, SE. Europe, Asia |
| July 5 | Penumbral lunar eclipse | 4:30 UT | N. America, S. America, W. Europe, Africa |
| November 30 | Penumbral lunar eclipse | 9:43 UT | N. America, S. America, E. Asia, Australia |
| December 14 | Total Solar eclipse | 16:13 UT | E. Pacific, S. America, S. Atlantic |
 Courtesy Sky & Telescope
We just experienced the first of these, called a Wolf Blood Moon Eclipse on Jan. 10th & 11th, which was accompanied by another 5.9 after-shock in Puerto Rico on Jan. 11th, followed by the eruption of the Taal Volcano on Jan. 12th.  This Super Blood Moon Penumbral Eclipse was not visible in North America, but was near the Moon's closest orbital position to the earth.
Figure 1. Supermoon Statistics
Luke 21:24-33

24 And they shall fall by the edge of the sword, and shall be led away captive into all nations: and Jerusalem shall be trodden down of the Gentiles, until the times of the Gentiles be fulfilled. 25 And there shall be signs in the sun, and in the moon, and in the stars; and upon the earth distress of nations, with perplexity; the sea and the waves roaring; 26 Men's hearts failing them for fear, and for looking after those things which are coming on the earth: for the powers of heaven shall be shaken. 27 And then shall they see the Son of man coming in a cloud with power and great glory. 28 And when these things begin to come to pass, then look up, and lift up your heads; for your redemption draweth nigh. 29 And he spake to them a parable; Behold the fig tree, and all the trees; 30 When they now shoot forth, ye see and know of your own selves that summer is now nigh at hand. 31 So likewise ye, when ye see these things come to pass, know ye that the kingdom of God is nigh at hand. 32 Verily I say unto you, This generation shall not pass away, till all be fulfilled. 33 Heaven and earth shall pass away: but my words shall not pass away.
"Israel has been viewed as hands of God's prophetic clock in Matthew 24, and Luke 21. In these gospel chapters Jesus used Israel to tell us of a generation that will finally see all the prophecies fulfilled." When Israel was reborn as a Nation-State in 1948, the "fig tree generation," was also birthed. As Luke 21:32 says: "This generation shall not pass away, till all be fulfilled."  Jesus confirmed his words when He said, 'Heaven and earth shall pass away: but my words shall not pass away' (Luke 21:33). This
generation that sees the fig tree shoot forth will not pass till all these things be fulfilled. 8
The 1948 generation is the generation that will not pass till all things prophesied by Jesus in Mathew 24, Mark 13 and Luke 21 be fulfilled. There are Messianic faithful who refer to Psalm 90:10 as a determinant of the length of a "Biblical "generation."
Psalms 90:10: The days of our lives are seventy years; and if by reason of strength they be eighty years, yet is their labor and sorrow; for it is soon cut off, and we fly away."
 According to their position, the following conclusions are drawn, which they explain at the following link: http://www.christiantruthcenter.com/the-fig-tree-generation-the-generation-that-will-not-pass/

In 2018 this generation was 70 years old the same year that Israel marked 70 years of statehood on May 14th, 1948. but this generation has to attain 80 years for years of "labour and sorrow" (great tribulation), bringing us to the year 2028. So then according to them from 1948 to 2028 = 80 years then this generation is soon cut off as prophesied in Psalms 90. This "cut off" happens when Christ appears at the Armageddon battle. 9
Therefore, since the ending point of this "fig tree" generation concludes in 2028, and as Jesus said, 'generation shall not pass till all these things be fulfilled', they have concluded that means the latest for Jesus Christ to return is the year 2028.
There are 7 years in a Great Tribulation period (the years of labor and sorrow) which must be fulfilled before the generation is cut off. So according to this position, the latest time for the Great tribulation to begin is the year (2028 – 7) = 2021. Before the Great Tribulation begins, the church is raptured, so the "rapture" may be near the year 2021. 10
What I find interesting about this scenario is that 2028 stands out for a couple of reasons. First, 28 AD is also known as the "acceptable year of the Lord," the year Christ completed his earthly ministry. The crucifixion date of Jesus Christ was [Nisan 14th], April 24th, 28 AD, and his resurrection took place [Nisan 17], May 1st, 28 AD. This makes the year 2028 the 2,000 year anniversary of these events, which is an eye-opener. 11
Another reason the 2028 date stands out relates to the alignments of the Great Pyramid, which was the subject my Dec. 2019 Blog. In this blog-study we noted the Great Pyramid's Sunset alignments opening to New Years Day on the Hebrew Calendar-Rosh Hashanah on Sept. 21st, 2017 close to the Rev. 12 sign. With the ancient testimony of the Great Sphinx embodied in Virgo the head of the woman with Leo the Lion's body, facing the eastern autumnal equinox, the Sphinx is pointing us to the setting Sun in Virgo as pictured with the Pyramid's horizon view in Virgo, seen below.
Figure 2. The Tetrad and the Signs of 2017. 12
At the moment Al Nitak is at meridian, Leo is in the east, but more importantly its star known as Regulus (King star) is precisely at the inclination of the Christ angle. Therefore, the Christ angle not only bisected Bethlehem at Christ's birth, but it also bisects Regulus. The year 2017 is the first year from present that Rosh Hashanah comes immediately after September 20th—when Al Nitak hits meridian precisely at dawn, and also when Regulus hits the Christ angle. The next years that this will occur are 2028 [2000 year anniversary of Christ's sacrifice and resurrection] and 2047– close to anniversary of Isreal's statehood. 13
Rosh Hashanah 2017, Sept. 20-21. 14
Thus Regulus fills the bill for the candidate aligned with Rosh Hashanah and the meridian alignment of Orion at dawn, along with the Christ angle.
Luke 21:24-33

24 And they shall fall by the edge of the sword, and shall be led away captive into all nations: and Jerusalem shall be trodden down of the Gentiles, until the times of the Gentiles be fulfilled. 
The times of the Gentile dominion over Jerusalem are summarized below taking into account not only the Jubilee Calendar, but also 2520 years when Jerusalem and its Temple lay desolate. There are a number of prophecies about Israel being re-formed as a nation– an event that took place in May 1948. This key point not only in the history of Israel, but also in Biblical Prophecy was marked by a series of Modern Blood Moon Tetrads in 1948-50 and 1967-68. These Blood Moon Tetrads marking the rebirth of Israel as a nation, align with a series of triple conjunctions of Mars-Regulus in Leo in 1947-48, and another triple union of Mars-Spica in Virgo in 1967-68, conforming to the pattern of Celestial Sphinx signs in Virgo and Leo.
There is certainly much in recent events regarding Jerusalem coinciding with these celestial events. Back on Dec. 6th of 2017 the Trump administration announced plans to move the US Embassy to Jerusalem, causing controversy among Islamic nations who opposed recognition of Jerusalem by a major world power linked with Israel. The timing of this is also interesting when we look at the Jubilee calendar that marked other key events related to Jerusalem in recent history.  As we correlate the two previous Jubilees in 1917 and 1967, we find an intriguing history wherein 1917, Jerusalem was liberated from the Ottoman Turks under General Allenby, just a few weeks after the Balfour Declaration promised Israel a homeland. This date is key in Dec. 1917 when viewed in a prophetic time span of Shemitah cycles [360 x 7] that total 2,520 years starting in 605-4 BC when the Babylonian King Nebuchadnezzar conquered Jerusalem, leading Israel away into the Babylonian Captivity. In the Balfour Declaration on Nov. 2, 1917-during the 1917-1918 Jubilee, till retaking the Western Wall during the 1966-1967 Jubilee, to the current Jubilee in 2017-2018, God has been at work  to restore His Jubilee Blessings to Israel in stages. The Temple Mount seems the next logical stage of this restoration process, where we could see provisions for a third Temple in Jerusalem. The new US Embassy was opened on the 70th anniversary of the rebirth of the State of Israel-May 14th, 2018. One key aspect of Biblical Jubilees is the restoration of the land to the original owners, thus it is interesting to see a progressive restoration of the lands of Israel including Jerusalem to the people who have returned to live in the modern State of Israel.
This great 2520 year period is called the great seven times of prophecy in Levi. 26:18;
 Then I will punish you seven times more for your sins. v.21 Then, if you walk contrary to Me, and are not willing to obey Me, I will bring on you seven times more plagues, according to your sins. v. 24 then I also will walk contrary to you, and I will punish you yet seven times for your sins. v.27 And after all this, if you do not obey Me, but walk contrary to Me, v. 28 then I also will walk contrary to you in fury; and I, even I, will chastise you seven times for your sins.

God is certainly making a point in this record among other judgments, what He brings upon Israel if they continued to walk against Him in all their ways. After the repetitions of the 7 times of Judgement, it also records the desolation of their cities including Jerusalem, and how their lands will not produce for them because Israel ignored the pattern of sabbaths as rest to their lands [Levi. 26:34-37, 42-46], as God commanded-leading to the Jubilee Sabbaths.
Israel lost her sovereignty in 605-4 BC, yielding a perfect 2520-year period (360 x 7), minus the 70 years captivity in Babylon, was fulfilled in 1948 when Israel regained independence. In 586 BC, the city of Jerusalem was destroyed, including the Temple. This took place 19 years after 605 BC when King Nebuchadnezzar removed their national sovereignty and sat King Jehoiakim as vassal ruler, (2 Kings 24:1). Using 586 BC as the start point of another time measurement, when Jerusalem is destroyed, adding another 2520-year period (again subtracting 70 years for the captivity of Jerusalem) is fulfilled in 1967 when Israel recaptures Jerusalem, June 7, 1967. The eternal covenant of God with His people Israel cannot be separated from the land of Israel, (Psalm 105:7-11) and its ultimate fulfillment is in accordance with His precise timing.
The city of Jerusalem and the Temple lay desolate for 70 years. After that period of desolation the 2520-Year countdown began, culminating on June 7, 1967 when Israel regained control over Jerusalem. They also gained control of the Temple Mount, but they had to return power back to the King of Jordan, who still retains control of the Temple Mount today. ​In the 20th century, the Nation of Israel regained her sovereignty, celebrating her Independence on May 14, 1948. Nineteen years later, the city of Jerusalem came under Israeli control on June 7, 1967. This Gentile dominion over Jerusalem is structured in two 1260 year periods [1260 x 2 =2520] leading up to the current countdown to the end times, where we are seeing a transition from 2520 years, to 2520 weeks, to 2520 days, leading us to a period just prior to the 7-year tribulation period. As the time periods on God's clock decrease from years to weeks to days and even hours, so the countdown to judgment of the world quickens as time grows shorter for our deliverance. As we read in the narrative of Biblical history, the nation of Israel did not repent to God for their shortcomings, and only a small minority returned under Ezra to rebuild the wall after the captivity. God anticipated this rebellion from what we see above in Leviticus 26. There, God warned Moses, if his descendants didn't repent and return after the captivity, His seven-fold wrath would fall upon them. ​We have already seen [360 years x 7] = 2520 remaining years of judgment in the 1260 x 2 periods of Gentile dominion over Jerusalem in history.
Bullinger believed that these 1260 year periods marking the Gentile's dominion over Jerusalem and its Temple in history, would foreshadow two 1260 day periods in the end-times, when the final Abomination of Desolation was to be fulfilled, before and during the Great Tribulation, [2 Thess. 2:1-4]. This time of the fullness of the Gentiles is supported in the heavens with findings in the 1260 days from the 1st Blood Moon Eclipse of the 2014-15 Tetrad to the Rev. 12 sign, on 9/23/17, as a precursor to the 2 periods of 1260 days contained in the 7-year tribulation, [Rev. 11:1-3, 12:6, 14, 13:5]. This 1260 day period is reflected in the Figure 2 graphic above.
There is additional background information on the history of the Hannukah Celebration and how it represented the cleansing of the Jerusalem Temple after it was desecrated by Antiochus IV as a forerunner of the Anti-Christ. 

The last Blood Moon eclipse of the 2014-15 Tetrad on Sept. 28, 2015, as the only Moon in this Tetrad visible in Jerusalem, occurred 2520 weeks from the end of the 6-Day-War, during the previous Blood Moon Tetrad of 1967-68, as Israel reclaimed control over Jerusalem for the first time since 70 AD. This is enlightening when we recall the 7 weeks, or 49-day count between Passover and Pentecost, is also the basis for the 7 weeks of years that form the 50 Year Jubilee on the Hebrew Calendar, as seen in the 50 years between 1967-68 to 2017-18. This gives us a common standard for calculating weeks, days and years in Biblical time-keeping, established in the feasts of Passover, Pentecost and the Hebrew Jubilee. This manner of Sabbath counting can apply to a week of days, as the weekly Sabbath; a week of weeks, as the counting from Passover to Pentecost; a week of years bringing a Sabbath Year; or even a week of Sabbath Years, bringing a Jubilee. And as we have seen in connection with the two princes of [Daniel 9:25-27]: with Jesus it was a literal week of seven days, whereas with the anti-Christ it is a week of seven years wherein he disrupts the temple sacrifices in the 7-year tribulation at the halfway mark of 1260 days.
The information above provides Biblical evidence for some interesting hypothesis concerning the end-times and the last days of the Great Tribulation period. The Heavenly Signs and Earthly Tremors opening the new decade of the Roaring 20's, should have our eyes squarely fix towards the sky and in God's Word, with an expectancy to see the Lord's Victorious Return FOR his Saints, especially as these warning signs become more frequent and intense.
Psalm 18:6-17
6 In my distress I called upon the Lord, and cried unto my God: he heard my voice out of his temple, and my cry came before him, even into his ears. 7 Then the earth shook and trembled; the foundations also of the hills moved and were shaken, because he was wroth. 8 There went up a smoke out of his nostrils, and fire out of his mouth devoured: coals were kindled by it. 9 He bowed the heavens also, and came down: and darkness was under his feet. 10 And he rode upon a cherub, and did fly: yea, he did fly upon the wings of the wind. 11 He made darkness his secret place; His pavilion round about him were dark waters and thick clouds of the skies. 12 At the brightness that was before him his thick clouds passed, hail stones and coals of fire. 13 The Lord also thundered in the heavens, and the Highest gave his voice; hail stones and coals of fire. 14 Yea, he sent
out his arrows, and scattered them; and He shot out lightnings, and discomfited them. 15 Then the channels of waters were seen, and the foundations of the world were discovered at thy rebuke, O Lord, at the blast of the breath of thy nostrils. 16 He sent from above, he took me, he drew me out of many waters. 17 He delivered me from my strong enemy, and from them which hated me: for they were too strong for me.
We can always look towards our God and Heavenly Father who is our Rock, our stronghold and our deliverer to get us through any and all situations that might be too big to handle on our own.
Happy New Year!
God Bless!
Agape'
Rene'

Footnotes
1. [https://www.prophecynewswatch.com/article.cfm?recent_news_id=3768]
2. https://www.theguardian.com/world/gallery/2020/jan/13/lava-gushes-from-taal-volcano-in-philippines-in-pictures [Picture credit]
3. https://www.breakingisraelnews.com/142194/ring-of-fire-to-appear-over-bethlehem-after-christmas/
4. [https://www.space.com/ring-of-fire-solar-eclipse-2019-photos-videos.html] [Picture credit]
5. IBID
6. [https://www.prophecynewswatch.com/article.cfm?recent_news_id=3768]
7. Sky and Telescope.com
8. http://www.christiantruthcenter.com/the-fig-tree-generation-the-generation-that-will-not-pass/
9. IBID
10. IBID
11. The Path into Eternity, Appendix 1, p. 494. Jon O. Nessle
12. https://watchfortheday.org/signsoftheend/giza2024.html [picture credit]
13. IBID
14. IBID [Piture credit]
Comments on Facebook
To those of you interested in commenting on this post please go to our Facebook Group Page